Tranlators needed:
If you can read english or italian and write in another language and you want to make a translation for one of my programs, please
Jenius 1.64:
multimedia file organizer, with a media player and more.
New version!
Several improvements and fixes
Software development
let me know your ideas for new freeware programs, or commission the development of a custom program for you
Application Monitor is a program that constantly checks the processes previously chosen by the user, and when it detects that one of those processes has stopped working it will start it again.
With Application Monitor you will always be sure that your important processes are running.
AppMonitor has been developed keeping in mind all those admin and power users who use programs that must always been running (such as webserver, database, mailserver, p2p) and that don't have a built-in restart function.
In this screenshot you can see Application Monitor checking that Cassini webserver (from asp.net) is working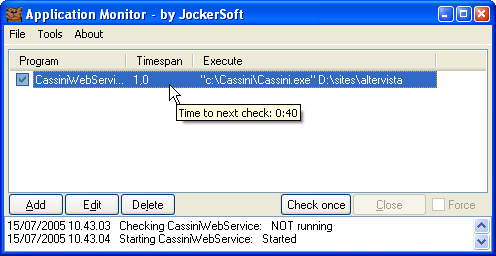 SYSTEM REQUIREMENTS:
Operating System: Windows 98 - ME - NT 4(service pack5) - 2000 - WindowsXP
Libraries: you must have installed the Microsoft .NET Framework 1.1 or higher freely downloadable from Microsoft.com site
If the above link does not work, please try this one: application monitor zip
If you have an idea about a new feature to insert into this program or a suggestion, please send me an : I'll try to implement it in the next version. Any comment/suggestion will be highly appreciated.